The Priscilla Pond Flawn Child and Family Laboratory (UT Lab School) is a training and research facility at the University of Texas at Austin that serves children 18 months through 6 years of age. The program is accredited by the National Academy of Early Childhood programs (NAEYC).  The UT Lab School is also licensed by the Texas Department of Family and Protective Services (TDFPS).
The UT Lab School is a developmentally based program that strives to meet the needs of young children across all developmental domains. The program's goal is to support children's growth and development so that each child's self-esteem is strengthened. Through a play-based, emergent curriculum, the program helps children feel good about themselves, embrace the process of learning and become confident in their interactions with peers and adults.
The UT Lab School is staffed with faulty from the Department of Human Development and Family Sciences (HDFS), with graduate degrees in child development, early childhood education, or related fields. Each Master Teacher has the assistance of graduate students in their classrooms. The UT Lab School serves as a laboratory for approximately 600 undergraduate students, from a variety of HDFS courses, per calendar year to gain observational skills and interaction techniques with young children. With the supervision of the Master Teachers, the students observe the children from the observation booths, interact with the children on a weekly basis, or participate in daily practicum experiences in the classroom.
Toddler Program (Little Walnut, Dogwood, Plum, Maple)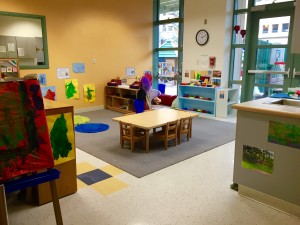 The Toddler Program enrolls children 18 to 35 months. Toddlers meet twice a week, Monday and Wednesday OR Tuesday and Thursday, from 9:00 am to 12:00 pm. Each toddler class consists of 8 children and 3 teachers: 1 Master Teacher, 1 graduate assistant, and 1 undergraduate student.
Preschool Program (Redbud, Crape Myrtle, Live Oak, Magnolia)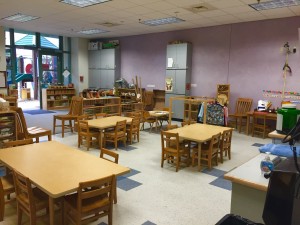 The Preschool Program has both 3 & 4 year old classes and 4 & 5 year old classes. Children attend Monday through Thursday, from 9:00 am to 12:00 pm or 1:30 pm to 4:30 pm. Each preschool class consists of 16 or 17 children and 3 teachers: 1 Master Teacher, 1 graduate assistant, and 1 undergraduate student.
5 & 6 Year Old Program (Pecan)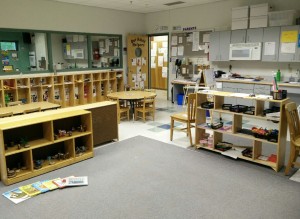 The 5 & 6 Year Old Program consists of children who are 5 years old by September 1st. Children attend Monday through Thursday from 9:00 am to 2:00 pm. This class consists of 18 children and 4 teachers: 1 Master Teacher, 2 graduate assistants, and 1 undergraduate student.
The 5 & 6 year old class is a research and developmentally based program which is designed to meet children's individual needs. Based on an emergent learning framework, this unique program:
Emphasizes intellectual, language and literacy, math and science skills, and social emotional growth, as well as motor skills development
Allows each child to maximize their learning potential while following the Texas Essential Knowledge and Skills* (TEKS) requirements for Kindergarten. *The TEKS are the state-mandated learning standards that describe what students should know and be able to do at each grade level.
Provides hands-on activities to promote active learning
Supports small class size; low student-teacher ratio; large and small group activities
Led by a Master Teacher who holds an M.Ed. in Elementary Education, with a specialty in ESL and is a certified teacher
Includes UT undergraduate and graduate students who assist in the classroom
What our Parents are Saying...
"We chose the Lab School because the whole school has a wonderful feel of togetherness and community. The teachers are beyond dedicated to young children and development, and are experts in the field.  It has become clear to me that the lab school is also a great place for the teachers to work, and therefore the best teachers strive to be there. I am so thankful we have had the chance to learn about and experience the lab school."
Anant and Connie Praba,
Current Lab School Parents